iSpeech.org
Mass Private I | Source URL
Community platform Nextdoor is going to great lengths to become the go-to platform to snitch on your neighbors.
According to a CityLab article, Nextdoor is showering law enforcement with all-expenses paid vacations to their headquarters in San Francisco, California all in an effort to gain law enforcement acceptance and put police on Public Agency Advisory Councils.
"Charles Husted, the chief of police in Sedona, Arizona, couldn't contain his excitement. He had just been accepted into the Public Agencies Advisory Council for Nextdoor, the neighborhood social networking app."
At a time when most Americans are concerned with just surviving the COVID-19 pandemic, Nextdoor views it as an opportunity to influence law enforcement and local politics.
"As part of the chosen group, he would be flown to San Francisco on President's Day, along with seven other community engagement staffers from police departments and city offices across the country. Over two days, they'd meet at Nextdoor's headquarters to discuss the social network's public agency strategy. Together, the plan was, they'd stay at  the Hilton Union Square, eat and drink at Cultivar, share a tour of Chinatown, and receive matching Uniqlo jackets. All costs — a projected $16,900 for the group, according to a schedule sent to participants — were covered by Nextdoor."
Exactly what Nextdoor includes in their law enforcement paid vacations is protected by a corporate non-disclosure agreement. But you can be sure it isn't just a trip to their headquarters.
Nextdoor's excuse for influencing law enforcement and advisory councils is to allegedly "help [public agency] partners to share their expertise and experiences with each other and our product development team."
If you look past Nextdoor's lame excuse to shower law enforcement with gifts, you see the real reason behind what they are doing.
"Since the Covid-19 crisis began in the U.S. at the beginning of March, Nextdoor says the volume of posts by public agencies has tripled. Along with his daily press conferences, New York Governor Andrew Cuomo has been posting occasionally on the site as part of Nextdoor's new partnership with the National Governors Association." 
The article goes on to say that Nextdoor's plan is to shamelessly follow in Amazon Ring's footsteps by cozing up to law enforcement and influencing government officials. Nextdoors goal is "to earn the trust of more public agencies, and to eventually pitch a paid version of the app."
The real reason Nextdoor is schmoozing with law enforcement and influencing advisory councils is to make them more profitable than the $2.1 billion dollars they are currently worth.
As Slate revealed, Nextdoor is more than happy Americans are using their platform to snitch on each other for not social distancing.
"If there are kids outside, getting more than adequate exercise time, and basically goofing around," a concerned Nextdoor user in Cherry Hill Village, Michigan, asked in a recent post on the hyperlocal social network, "is there something that can be done?"
Social distancing complaints on the rise during pandemic
"Our first format in talking to people is to ask them to cooperate and break up the crowds and engage in voluntary compliance," said Cincinnati police Lt. Steve Saunders. "If that doesn't happen we'll continue to warn them if they don't move on and separate, if they're not gathering for essential purposes, then they might be subject to fines or potentially arrest."
Cincinnati police have issued two misdemeanor citations for violating a state order related to the coronavirus. On March 16 officers cited Eric Chapel, owner of Queen City Lounge, for staying open after Gov. Mike DeWine ordered the closure of bars and restaurants.
Two weeks later police arrested Rashaan Davis after he livestreamed himself drinking and dancing outside in Over-the-Rhine, huddling close together with over 20 other people and bragging that they did not care about the risk of catching COVID-19.
"This is how we do it in my city," he said at one point. "We don't give a f*** about corona. This is how we celebrate our coronavirus."
Davis was charged with violating Ohio's stay-at-home order and felony incitement to violence. A judge later dropped that misdemeanor charge of violating the stay-at-home order. The felony charge is still pending.
More than 100 Cincinnati residents have also sent questions and concerns about COVID-19 to the city's website during the past month.
Citizens can submit a general inquiry or report a business violation or public gathering, which are then referred to police or the city's health department. Some residents criticize businesses that should be closed or employers who are not providing masks and gloves to employees.
But many others complain about activities in their neighborhood that they believe are unsafe.
"Please send somebody to stop that ice cream truck from driving around the neighborhood and enticing the people in the neighborhood to come out in large numbers and buy ice cream without social distancing or protective gear," a College Hill resident wrote on April 3.
A Downtown resident urged city officials on March 24 to "sanitize all outdoor ATM machines and crosswalk buttons in the city. As a worker, I am seeing people coughing and touching these items very often daily."
Norwood Police Lt. Ron Murphy said his department received several complaints a week about pickup basketball games, large family birthday parties or crowds gathered outside a local ice cream shop. But the calls have slowed down recently.
"We've gone out, we'll talk to people and we'll explain to them what good social distancing is," Murphy said. "If they still knowingly violate it and they kind of force our hand, we would more than likely have to issue them a citation. But we have not had to do that yet. Most people are responsive to our requests and basically asking them to stop doing what they're doing."
Across the river, police in Kentucky are reporting very few social distancing complaints, in part because those calls are directed to a state health department hotline and not local law enforcement.
"The actions that have been put in place by the different state governments are a little bit different. Governor DeWine and Health Director Acton's – it's more of a stay-at-home order where ours is more of a social distancing order," said Covington Police Assistant Chief Brian Valenti.
"In the beginning we had some complaints at parks and whatnot. The governor has since closed the parks … all of the parks have either been roped off or taped off and basketball rims have been removed. So that really helped," Valenti said.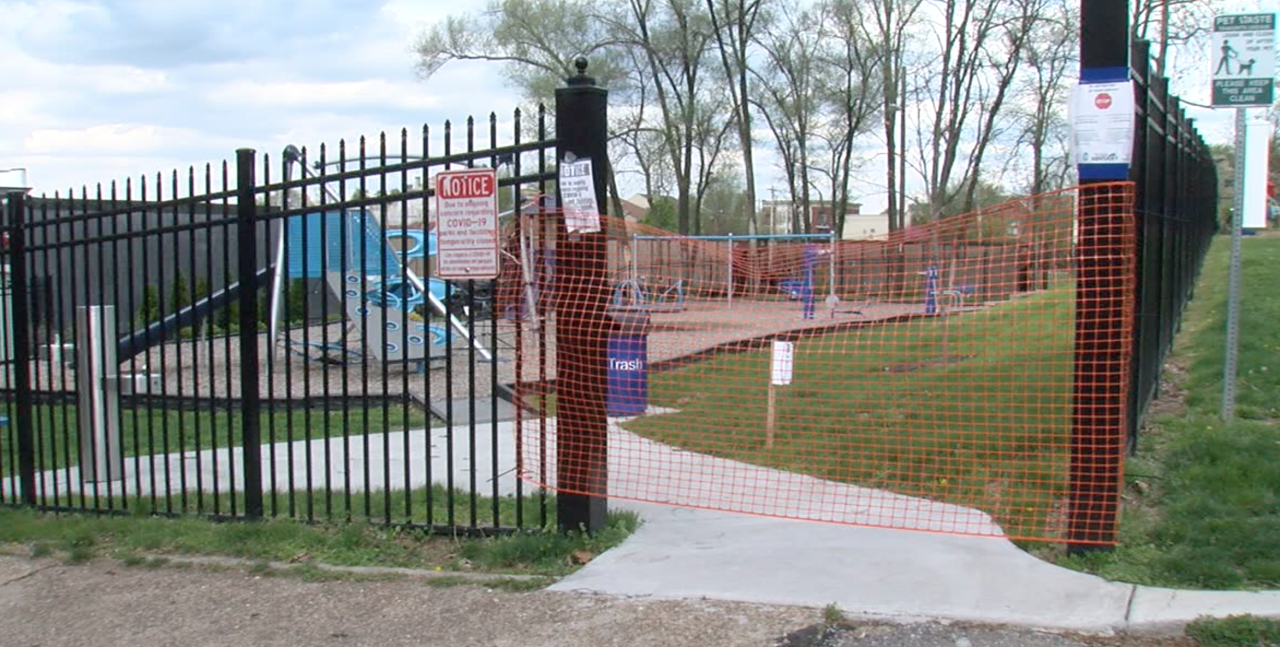 Newport police haven't received any complaints about social distancing violations. The only place where Newport Police Chief Chris Fangman said he has seen complaints is on social media.
"We monitor them on social media and that's the only place we've seen the complaints," Fangman said. "You really got to take it with a grain of salt, because anybody with a keyboard can get their opinion put on there."
In fact hundreds of people regularly post complaints on Nextdoor across the city's East Side neighborhoods. They report coughing joggers, landscapers with backpack blowers and neighbors who host too many visitors.
"I just saw four high school-age kids come out of the house across the street and join up with a couple others and take off walking. No masks or social distancing; just like any other day to them. Parent is at work so a lot of times the kids hang out there in the house or shooting hoops out front. Really makes me angry because my daughter is one of the nurses working the COVID-19 wing at a local hospital," a Fairfax resident posted on April 6.
Fairfax Police Chief Jeff Bronson said his department has gotten more questions than complaints.
"We have not really received any complaints, just questions on the status of essential personnel and how it's determined, in which we referred to Governor DeWine's … guidelines," Bronson said.
But in nearby Mariemont, Mayor Bill Brown posted a note on Nextdoor on April 14 asking residents to discuss with their children and teens the importance of not gathering in groups.
"Children should not have in-person playdates while school is out," he wrote.
As long as the coronavirus is around, Kinney doesn't see the complaints on social media ending anytime soon.
"If I see something that I don't think is right, especially now, I'm going to challenge it," Kinney said. "If I don't think it's right, I'll speak up."